Acronis Cyber Backup Helps IT Keep the Business Running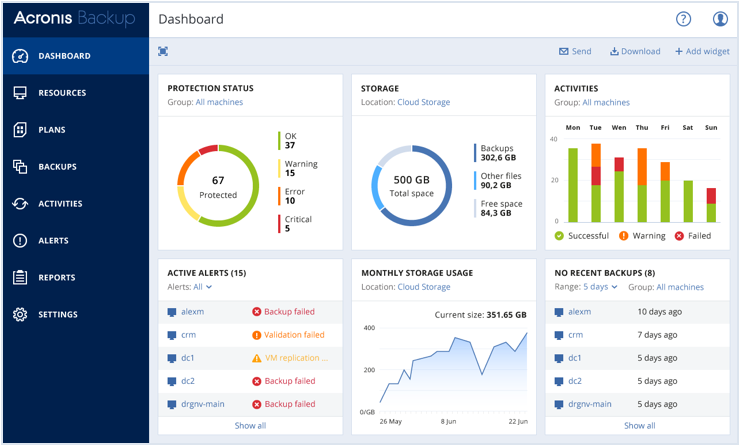 Businesses can be at risk of losing important data. Lost data leads to costly downtime, customer dissatisfaction, regulatory fines, and lost revenue. As a result, IT pros must meet extremely high expectations. You need to keep the company running 24-hours a day.
Acronis Cyber Backup delivers the data protection that meets today's demands. It keeps your business running, protecting any workload, scaling without limits, and saving you money.
Data protection and backup software for your valuable assets
Enable data protection for all your platforms, systems, devices, and operating systems.
Acronis Cyber Backup
Watch how to keep your business running
Why Acronis is the best backup solution for your business?
Integrated with new-generation security features, Acronis Cyber Backup is the must-have data backup solution for businesses of all sizes.
Ransomware Protection
Powered by AI and machine learning technologies, Acronis protects your data and files from all the major cyberattacks like ransomware. It remains proactive to detect any attacks and avoid unauthorized access.
Faster Recovery
Acronis is a fast backup software that reduces recovery time to seconds. During recovery, the productivity of your organization is managed simultaneously with the runVM technology.
Secure entire infrastructure
All your data and infrastructure remain secure, whether you use cloud, migrate to new apps, or adopt new business processes. Acronis enables data and infrastructure protection for more than 20 platforms.
Blockchain-based Notary
Acronis Cyber Backup uses blockchain-based notary technology to facilitate data integrity and avoid tampering of data by hackers.
Easy and Simple
Get a simple and scalable tool for the management of regular operations, data protection risks, and backup performance. It is an easy-to-learn solution which saves your efforts and save on education and integration.
Highly Efficient
Protect massive amounts of data with high efficiency, schedule backups as per your need, convert backups into VM files, and use up to 8,000 physical agents per management server, without any impact on running systems.
Contact Form
SIMPLY COMPLETE THE ENQUIRY FORM